Tucson's Best Concrete Company!
We do driveways, sidewalks, patios, pool decks, grinding & so much more!
We do all sorts of concrete work. Whether it be driveway, sidewalk, patio or any other type of cement or concrete paving, we are the company that will best serve you. We service the greater Tucson area.
Tucson Concrete Pros is in partnership with Herson Renovations.
what our customers are saying about us:
The whole crew did a spectacular job. I would definitely recommend going with these guys on your next concrete project. Our patio looks great.
Kimberly Johnsen


September 28, 2022
We had an excellent experience working with Tucson Concrete Pros, everyone was very responsive and efficient. All of our questions were answered in a timely manor. The whole process was completed on time and the initial estimate was quick. Thanks again!
Jessica Butler


October 14, 2022
Tucson Concrete Pros did a great job on our property and we are thoroughly impressed. Their contractors are knowledgeable and friendly. This is exactly the type of contractor you want working on your home. I would highly recommend working with this group!
Oliver Charlotte


October 14, 2022
Concrete Contractors Tucson, AZ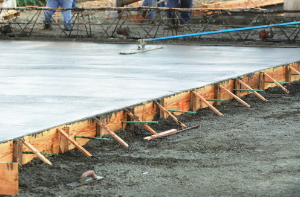 Tucson Concrete Pros provides residential and commercial concrete services only. We don't supply or deliver concrete.
Tucson Concrete Pros is operated locally, our focus is on residential and commercial flatwork. We specialize in concrete installation work and love installing brand new driveways, concrete sidewalks and many types of concrete architecture. The team at Tucson Concrete Pros is excited to help you today!
The average concrete contractors in Tucson is overpriced and lacks experience in the field. The team and contractors of Tucson Concrete Pros have years of experience. We can give you an estimate for even the most "complicated" of projects. We deliver on time and on budget every time. We are a small family owned group of contractors and your business means everything to us. If you are a customer of ours, we treat you like family. Our company was originally started the old school way, built on referrals and old world principles. These standards that we uphold today are why we have the success that we do. Understanding how important your project is, we take expert levels of care with each and every one of our clientele. 
The pride and craftsmanship that we take in our work shows in every aspect. We always want our final product to meet the vision that you had in mind. How are we able to achieve this? By being completely dedicated to your satisfaction. We strive to be Arizona's concrete company that you can trust.
Our focus is on residential and commercial concrete and flatwork. We can deliver the most dependable, reliable, and attractive finish that will look great on your property. Of course, not all contractors are experts at everything, so we have many different experience types on our team so that we can tackle any type of job that comes our way.
We listen to our customers
The biggest problem most people have with concrete contractors is that communication doesn't go well. Some will say, bids were never received or worse, contractors don't show up. For that reason, we are in business and deliver on our promises every time.
Are you looking for concrete work in Tucson? We do it all!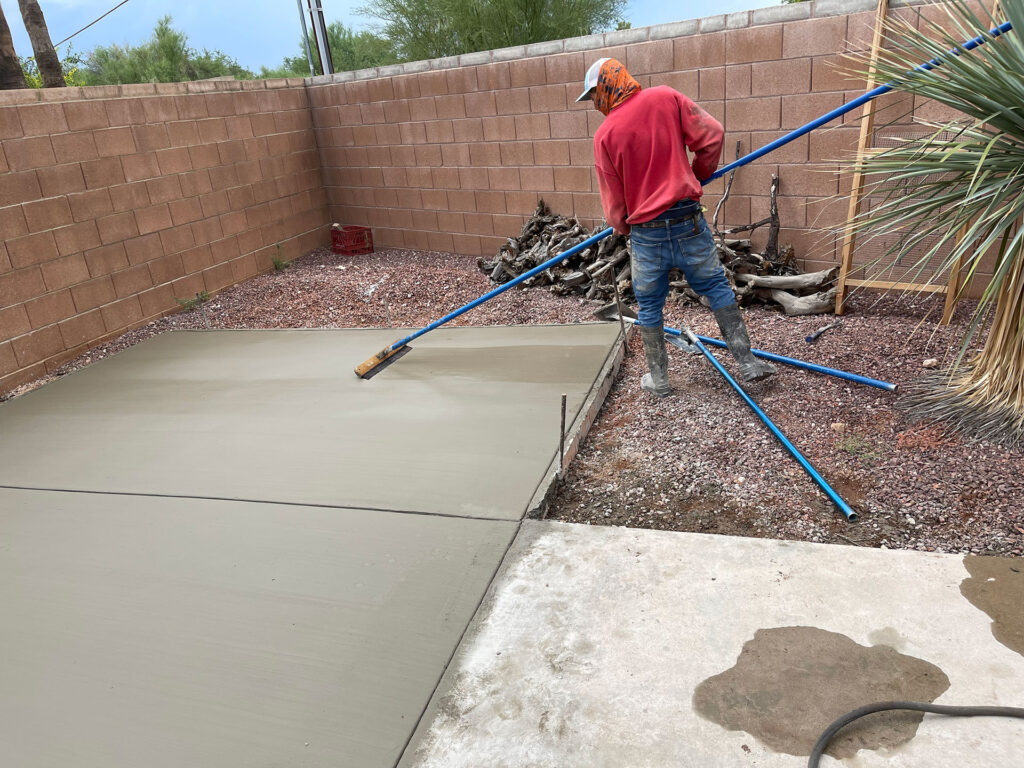 At Tucson Concrete Pros, we provide you with the best possible concrete contractors experience. Our team can help you with a variety of projects.
Why us?
– Quick quote within 24 hours
– 25+ Years  Experience
– Honest Prices
– Residential and commercial available
– Unbeatable Quality + Incredible Service
When concrete cracks or breaks, it can be difficult and a pain to repair. That's where Tucson Concrete Pros comes in. We are a concrete repair company based in Tucson, Arizona. We offer fast and free quotes, and we're proud to say that we have the best concrete repair service in the area. Whether you need repairs for your driveway, sidewalk, or commercial building, we're here to help. Contact us today to learn more about our services. We serve all of the greater Tucson area.
Please contact us if you have any questions at 520-277-2571
Concrete is a highly versatile building material that offers numerous advantages, making it a popular choice for construction projects in Tucson and across Arizona. With various options available such as polished, colored, stamped, and stained concrete, you can choose the one that best fits your needs. Additionally, there are decorative options such as stenciling, embedding, and engraving that can give a unique look to your project.
Concrete is also environmentally friendly and can contribute to making Tucson a more sustainable place. Its durability and ease of maintenance make it a practical choice for many applications. However, with so many options available, it can be difficult to decide which one to use and who should install it. That's why our experienced concrete contractors team is available to discuss the available options and help you make an informed decision.
Our reputation as a trusted concrete contractor in Tucson is built on our ability to deliver a wide range of concrete solutions. No matter what type of project you have in mind, we have the expertise and resources to handle it.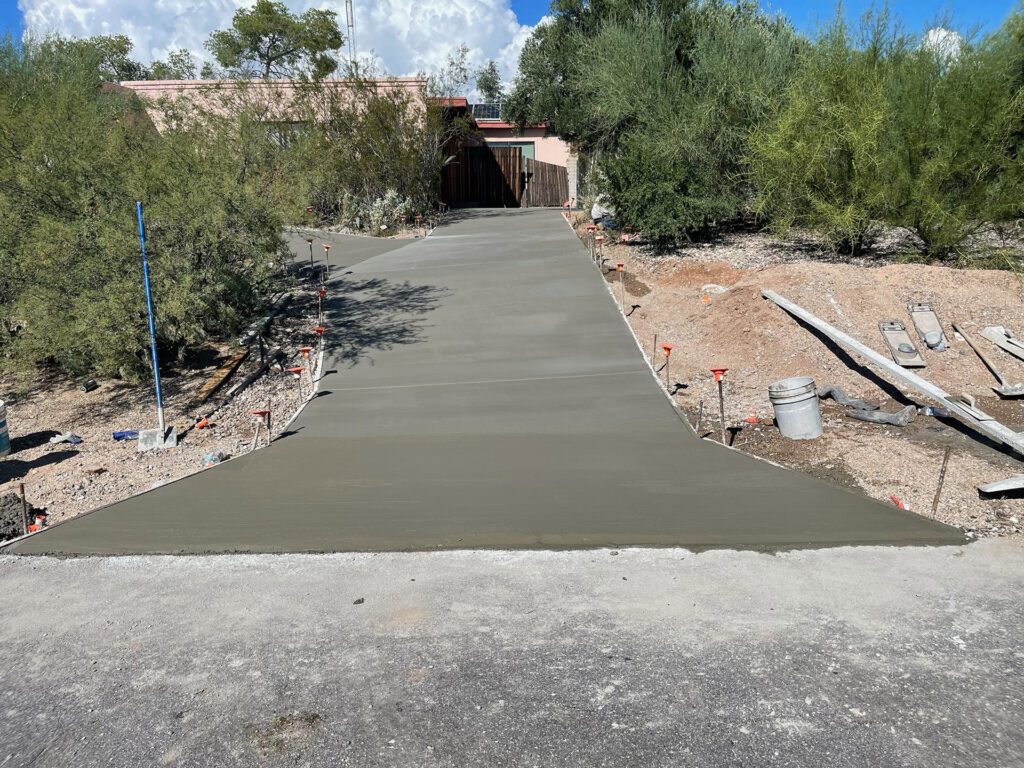 An ugly driveway can definitely have a negative impact on your home. Depending on the condition it can also be dangerous to anyone traversing it. If you discover that your driveway is cracking or spalling for any reason, it might be time to call in the experts to have it fixed. We can get you a concrete driveway estimate free of charge, this way you can focus on other home improvement projects you may be thinking about. We specialize in replacing driveways and new concrete driveway installations. Next, we use high-quality concrete mixtures that are specifically designed to withstand the local climate and traffic conditions. Our experienced team skillfully pours and finishes the concrete, taking care to ensure that the surface is smooth, even, and properly sloped for water drainage. We also offer various finishing options, such as stamping, staining, or coloring, to enhance the aesthetic appeal of your driveway.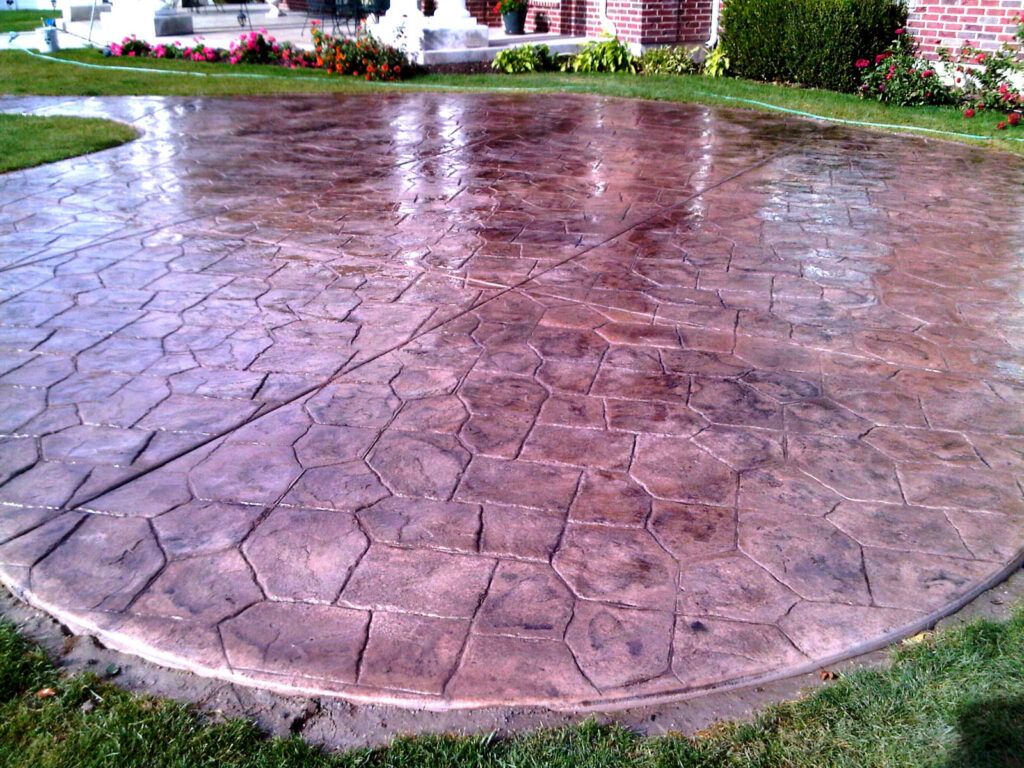 Decorative concrete or stamped concrete is a colored concrete that is textured and imprinted. The concrete texture is made to look like hardscape. It can be engineered to resemble flagstone, wood, brick and slate. It is a more affordable option than using actual pavers or hardscape materials. In most cases, it can prove to be more durable than other materials. Stamped concrete can offer a great finish that requires less maintenance than actual stone, wood, or pavers. Stamped and colored concrete should be sealed on a regular basis. You will have to take good care of stamped concrete as opposed to traditional finishes.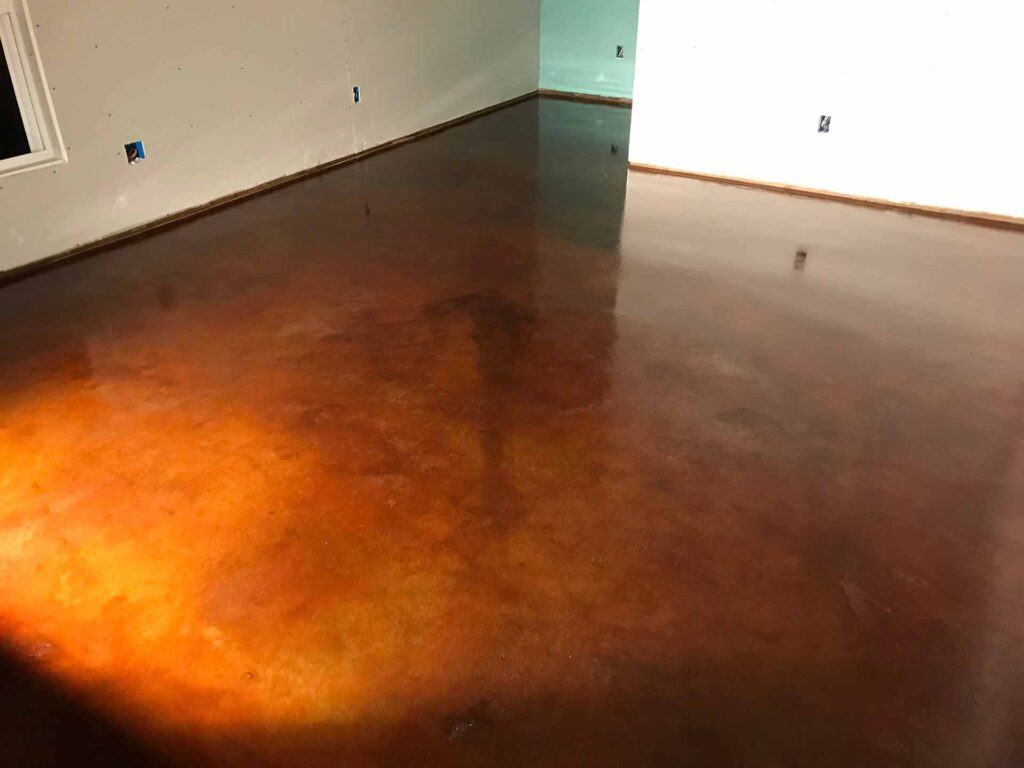 Stained concrete is a great choice for those seeking a visually appealing and low-maintenance flooring option. It offers a wide variety of color choices, durability, and easy upkeep, making it ideal for both residential and commercial spaces. Additionally, stained concrete is an eco-friendly option as it does not require additional materials to be added to the concrete surface. Stained concrete can also be customized with various designs and patterns to fit any design aesthetic, giving it a unique look. It is a cost-effective option, requiring minimal upkeep and no need for regular waxing or polishing. With its durability and stain resistance, stained concrete is ideal for high-traffic areas, making it a practical choice for commercial spaces like restaurants, offices, and retail stores.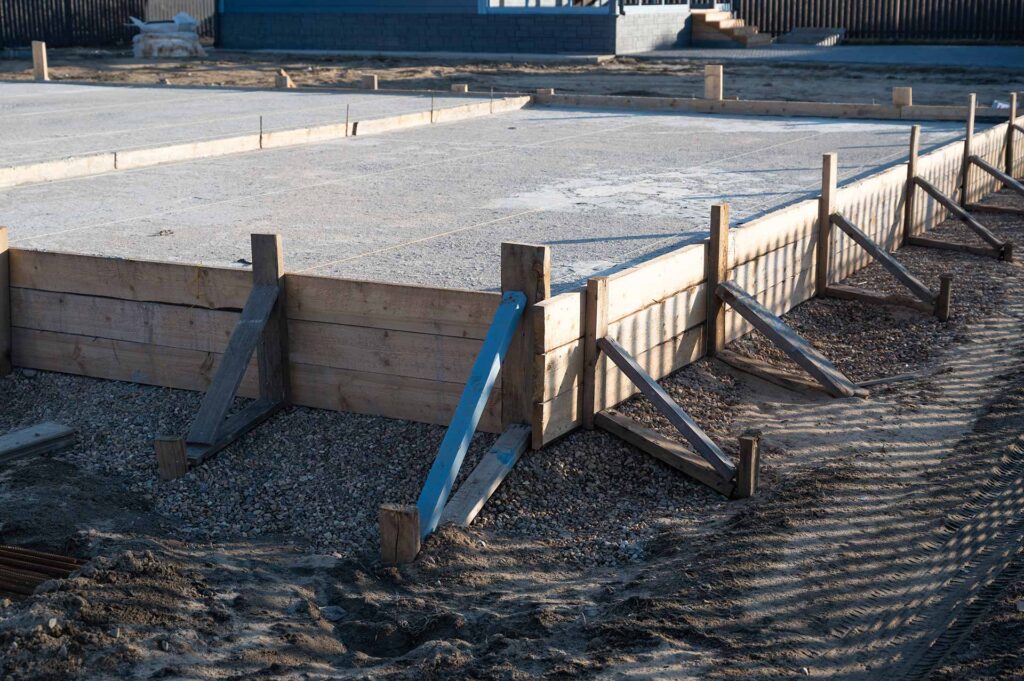 When it comes to concrete foundation pouring, Tucson Concrete Pros follows a step-by-step process to ensure that the job is done correctly. We begin by preparing the site and ensuring that the ground is level and free of debris. This is a very important step in the building process! Then, we set up the formwork, which is the framework that holds the concrete in place as it dries. Once the formwork is in place, we pour the concrete and use various tools to ensure that it is level and smooth. We pour all types of slabs and foundations including post tension slabs.
Tucson Concrete Pros takes great pride in their work, and we stand behind every project we complete. We use only high-quality materials and adhere to industry standards and regulations to ensure that every job is done safely and to the highest standard.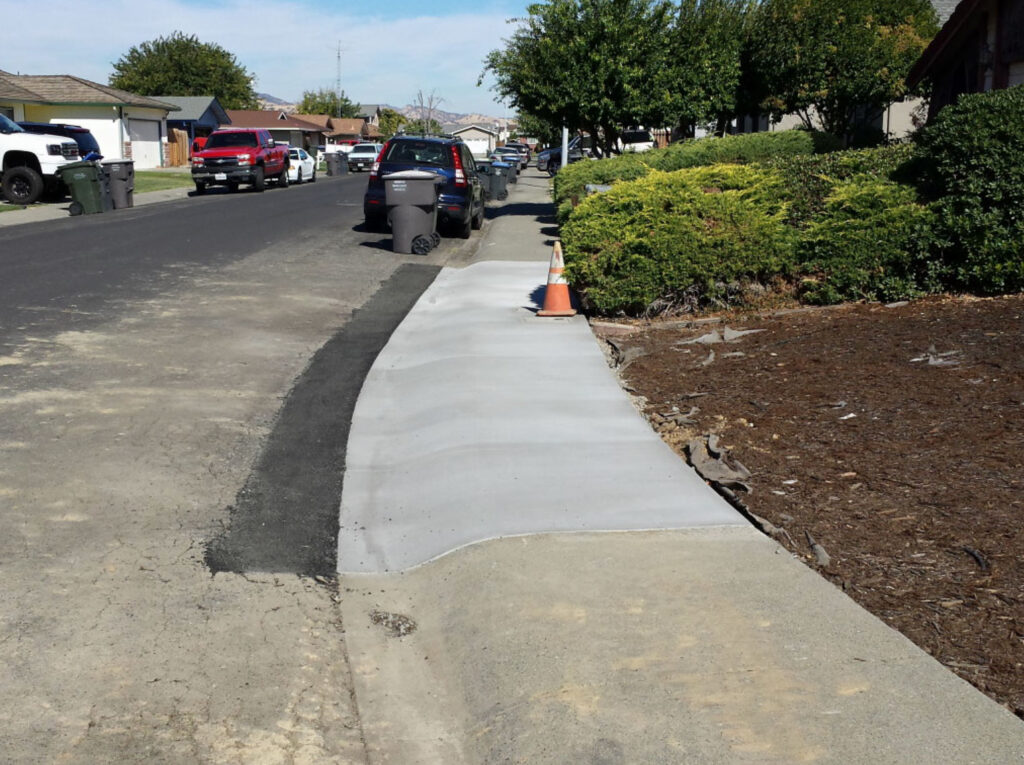 If a public official of the city of Tucson determines that a sidewalk in Tucson is in such bad condition that it is a hazard to the public, then they will set forth a notice to the homeowner about taking care of the situation. Typically, the notice will come in the mail and can be posted somewhere on the property. The notice will contain a description about what needs to be repaired and the homeowner will have the right to appeal it if necessary. We are experts in sidewalk repair on many different shapes and styles. We have been repairing and upgrading concrete parts of the city of 5+ years and can be trusted with any of your sidewalk needs.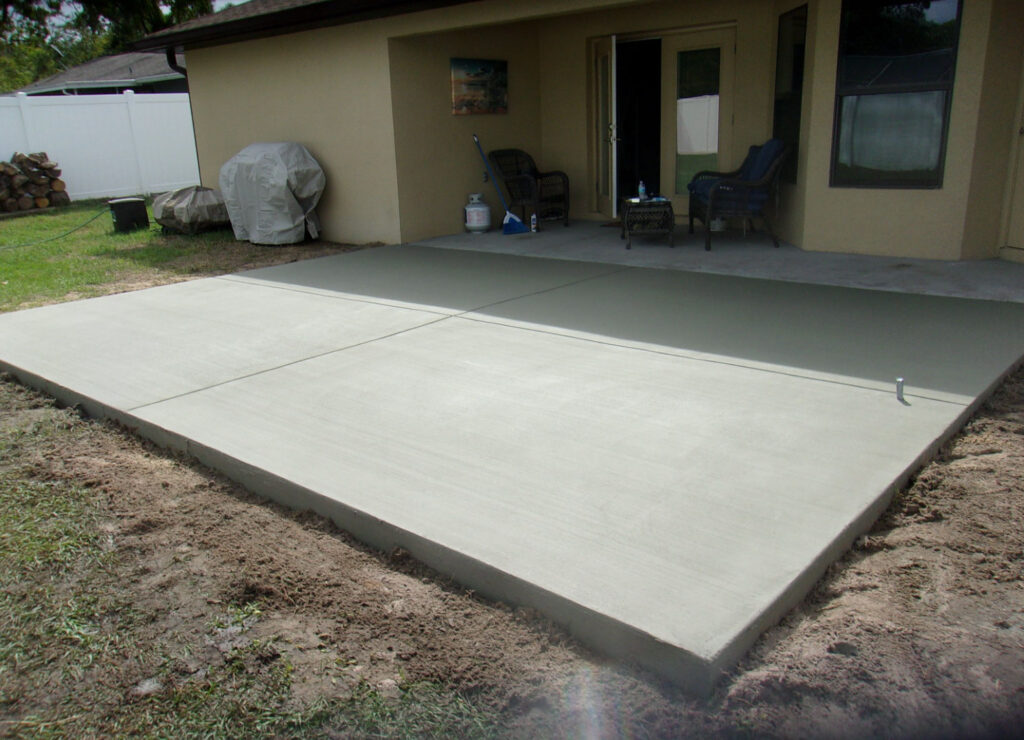 You may be considering upgrading or installing a new concrete patio. Tucson concrete pros can help you with any overwhelming decisions you might be feeling. A new patio can be a huge upgrade to your home and increase the property value. There a different design types like stamped and colored concrete for you to choose from. You will want to make sure that the concrete patio is going to be installed correctly. A low offer from an inexperienced contractor can cause problems down the road if it was installed incorrectly.
We take concrete patios very seriously!
Tucson Concrete Pros offers installation, design, maintenance as well as repair. We always come out on site to give you an accurate estimate.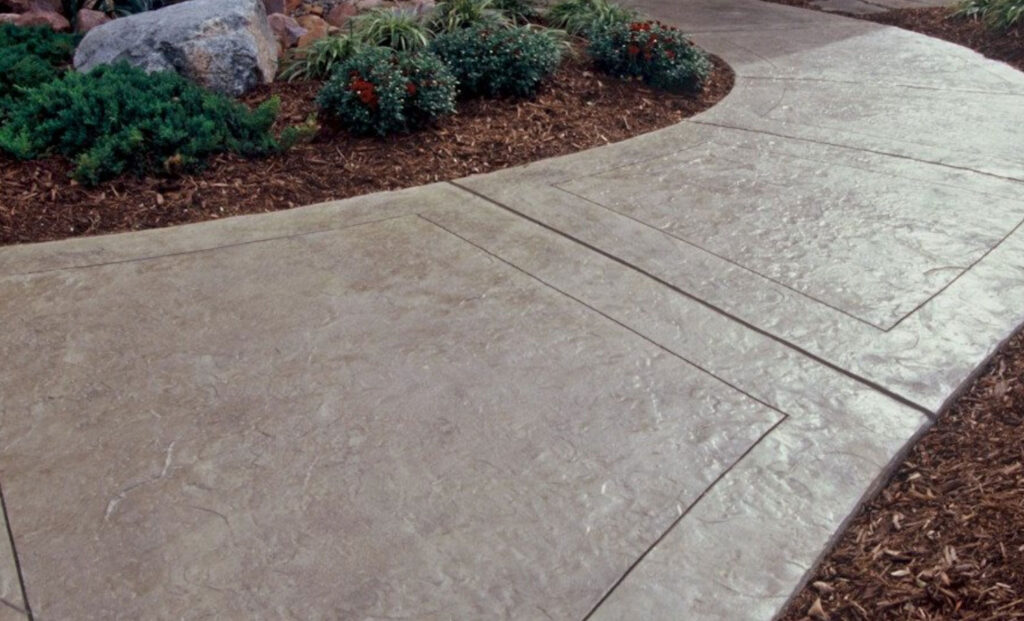 Concrete walkways and sidewalks can be a utilitarian or decorative addition to your home. They add a much needed curb appeal to homes and buildings.
While plain concrete is still the most often used surface to install, there a many different types of decorative concrete alternatives that can add hardscape like textures to your walkway. The best part is many of these new applications have evolved to be able to be applied to existing concrete walkways.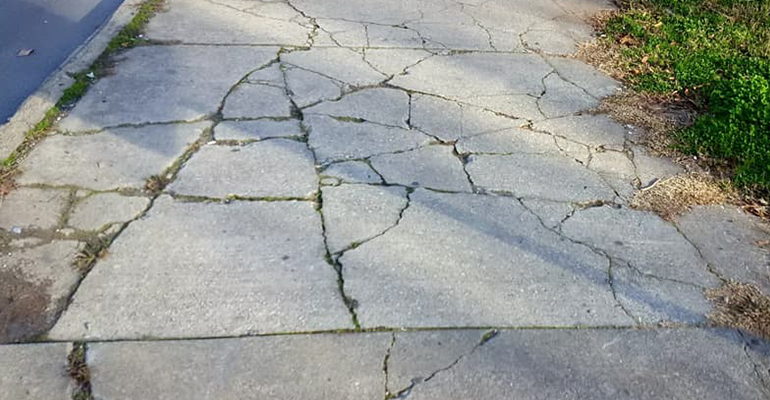 Customers often times will ask about getting a repair estimate. They would like to know if their concrete driveway, patio, sidewalk can be repaired. We always have one of our concrete specialists on site to give you a quote after we have seen the damage. The answer is its always dependent on the current condition of the concrete itself. A spalled surface can be re-used for a new surface to overlay a pour. When it comes to repair their is always lots of options.
Broken, chipped and un-level concrete is can be dangerous. As a matter of fact, given the right conditions, concrete can be downright dangerous if repairs are neglected. We offer a comprehensive line of repair work including concrete sealing, patching, grinding, caulking and so much more.
Neighborhoods we Service in Tucson:
Yes, absolutley. We have a dedicated team to making sure that we can get you a quote as fast as possible
Very likely yes! Give us a call and we'll see if we can work something out
Yes. Call us and tell us about the job description and we can likely handle it.
Ready to get your concrete fixed?